With his solo exhibition 'Apocalyptic Dreams' currently showing in Brisbane, we thought it the perfect opportunity to introduce another local creative who works closely with The Club, Matthew Deasy. If you've ever sought out local screen printing services in Brisbane, Deasy's name would definitely be familiar to you. He's the brain child behind No. 7 Print House, which has been in operation since 2009! You know all of the hand printed Culprit Club shirts ya'll get around your bodies? Well, you've got Matt to thank for those! Finding a printer who's a) creative b) reliable and c) doesnt mind doing small runs to support local artists and businesses is pretty much 1:100 in the ratio of rarity, and we were lucky enough to find THE ONE - Matt Deasy. Check out his full interview below, and get to know why he's one of the most highly regarded and respected printers around.
MATT, YOU'VE BEEN IN THE SCREEN PRINTING INDUSTRY FOR NEARLY 20 YEARS, WHICH IS CRAZY IMPRESSIVE! HOW DO YOU THINK IT'S BEEN SHAPED AS A SERVICE/ART FORM SINCE YOU FIRST STARTED?
Screen printing was and still is one of the most versatile forms of printing coupled with it's relatively low costs (compared with other forms of printing), has always made it an attractive labeling option for a wide range of mediums, from textiles right through to obscurely shaped objects made of wood and plastic and metal. I was always really interested in the graphics based side of the trade, which is more paper, plastic and vinyl printing. Before modern day digital capabilities were available, screen printing was often one of the only options to have black and white through to full colour reproductions printed. Learning about these pre digital processes has shaped a lot of my own artwork and I often like to replicate my own digital graphics and adapt them to the manual and mechanical screen print process.
WHAT FIRST GOT YOU INTO SCREEN PRINTING AND WHAT MADE YOU STICK WITH IT?
In the beginning screen printing just happened to be an accessible outlet for me to create imagery without the hassle of having to draw or illustrate objects from scratch. I was always a keen drawer as a kid, but always found the process time consuming and often couldn't put down on paper what I really wanted to. I was immediately drawn to the free experimentation and vivid ink colours of the screen print process. The first prints I created were basically collages of leaves and grass that I laid out on paper and then blended different coloured inks through the screen straight over the top of them. As soon as I'd done my first print, all the leaves and grass stuck to the screen which basically became my first reproduction stencil. I was probably 13 or 14 at this stage and from here quickly started adapting these types of processes to clothing. At this time I was fairly obsessed with music and band culture so decided to try something a little more technical and started reproducing hand cut stencils from imagery of my favourite bands.
This process kind of led me from the free experimentation side to learning more refined skills about accurate stencil making, techniques which eventually led me into the industry as a commercial printer.
IT SEEMS LIKE YOU'RE A MAN OF THE BANDS OF SORTS, HOW DID YOU FIND YOURSELF WORKING WITH SO MANY MUSICIANS?
My good friend and I moved to Brisbane at the same time after starting a band in our home town. Straight away we started going to gigs and not long after started booking our own shows. We got some moderate success locally and it introduced us to countless musicians and artists. At the time I was working for a screen print company running a night shift and started mentioning to people I could print shirts for their bands. It started to snowball from that point working with musicians quite regularly, from clothing merchandise through to poster and album artwork.
AS WELL AS BANDS, YOU'VE ALSO WORKED WITH A HEAP OF LOCAL BUSINESSES OVER THE YEARS, WHO'VE BEEN SOME HIGHLIGHTS TO WORK WITH AND WHY?
There's been so many now! It seems every month I'm being introduced to a new artist doing really great things. People like the Hangar Collective from about 10 years ago gave me my first regular poster commission work, and around the same time I started a working relationship with the Room 40 label, which has been a great opportunity to print work for overseas artists. There have been countless others as well from the last few years like Phoebe Paradise, Bedroom Suck, Contrastore, Phase 4, Ivy niu and yours truly, The Culprit Club who have all made a solid local community of artists. The support locally and even interstate has been overwhelming!
WHY BRISBANE?
Well honestly, I was never sure if Brisbane was going to be my permanent base. There were quite a lot of companies I worked for locally that turned out to be almost soul destroying environments. I was often disappointed in my work colleagues attitudes to the art form, treating it more as a means to an end of a working day. It was quite a dark period for me looking back and I tried to completely quit the trade on a couple of occasions, which again made for some very depressing experiences. Since about 2011 things started to look up moving into a different area of screen printing and finally finding some like minded work colleagues. This gave me a platform to get serious about starting my own business and during this time have created many fantastic relationships with local artists. I also think Brisbane has grown a lot in the last 10 years and perhaps the cliche of Exodus to Melbourne is slowing and allowing a culture to fully grow here in Queensland.
DO YOU FIND SCREEN PRINTING A COMPETITIVE INDUSTRY?
Definitely not at the time I started. It seemed everywhere I worked, no one was interested
In their job, in fact there was actually hatred for it amongst most of my work colleagues. It just seemed at that point there was no one interested in looking after artists print runs or small scale merchandise jobs. I think this was an important development in allowing me to garner a solid customer base. Things have definitely changed in the last 5-10 years though with the rise of social media, youtube, hipster culture as well as a major decline in the pre-digital manufacturing sector, of which the screen printing industry was a major part of. This sort of opened the gates to a lot of people creating their own screen print setups and trying it out for themselves.
WHAT ARE YOUR TOP FIVE FAVOURITE GARMENT DESIGNS YOU'VE PRINTED, AND WHY?
I really enjoy CMYK process printing (photographic reproduction) and split fountain blending which has been an integral part of my current exhibition. Some highlights over the years include the Bedroom Suck 5 year Anniversary tee designed by Gill Tucker, Freetime watercolour reproduction tee, Love of Diagrams LP covers, Birds of Tin reproduction 7 inch record cover & poster, Jet Black Cat -Steph Hughes Record store day collaboration tee.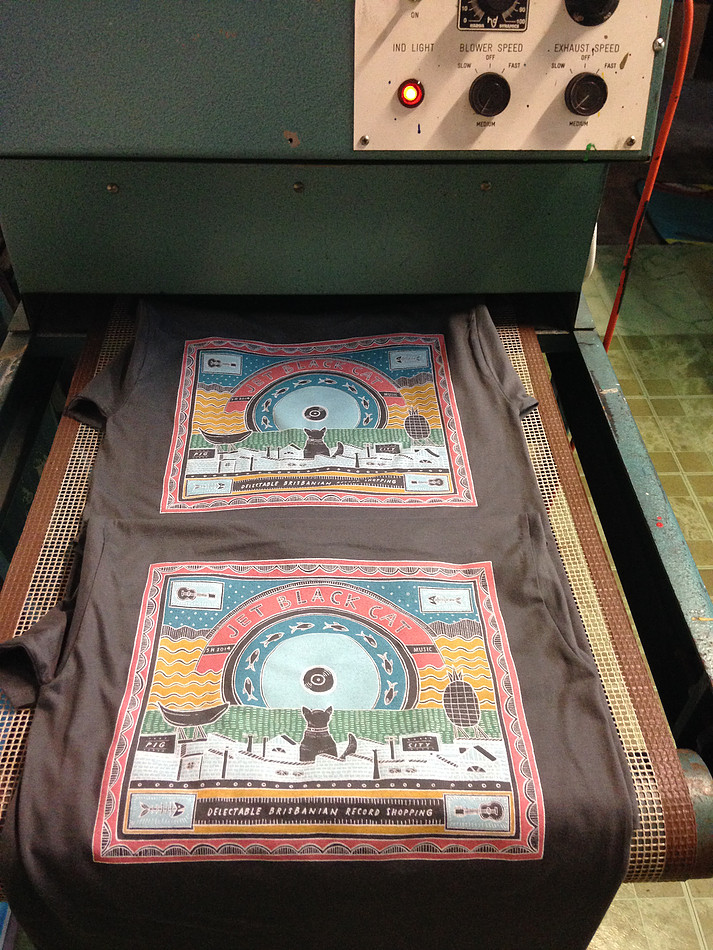 YOU USE SCREEN PRINTING AS A TECHNIQUE FOR YOUR OWN ARTWORK ALSO, CAN YOU TALK US THROUGH YOUR STYLE AND PROCESS?
The techniques learnt as a commercial printer I have adapted into my own screen printed artwork. Iv'e always found great pleasure in the little mistakes in screen printing, it's always something that would immediately catch my attention, such as if something looks out of registration, warped, distressed or if ink has bled out of a print. You're taught to pick up on all of these mistakes and have an eye like a hawk for it during a print run. I took all of these faults as a method experiment further into my own printed works.
TELL US ABOUT YOUR CURRENT SOLO SHOW, APOCALYPTIC DREAMS?
The upcoming exhibit is something I've been working on for about 2 years now! I'm up to 195 printed posters in my catalogue, so thought it might be a good time to have an exhibition for numbers 180-189 and focus on a specific size of print being A2-A1 for this show. The work is a mixture of photographic collage, free form blending and transparent colour layering across 10 different works with some test prints in-between. They'll be a total of about 25 pieces on display and for sale. Hopefully I'll have an online shop setup after the exhibit where prints will be available for purchase as well. I'm also hoping to do some collaboration prints with some of my favourite local artists.
WHAT'S THE BEST WAY FOR PEOPLE TO GET IN TOUCH WITH YOU?
The best way is to make contact through my website at www.no7printhouse.com
or direct at no.7printhouse@gmail.com