Speaking out publicly on his Instagram account after an incident with Wide Open Walls Festival, Auckland's graffiti giant, ASKEW has today posted about a need to "start a conversation" about mural festivals and the politics surrounding them. Touching on how the authenticity and agenda's of festivals around the world are changing due to people 'trending' investors buying into them, ASKEW's words rein true to his personal experiences, and more than likely, those of many artists and curators across the globe.
His comments come after the mural he created in Sacramento, California for Wide Open Walls was removed entirely shortly after it was completed.
ASKEW's meaningful, and heartfelt work was based on the traces of humanity, and signs of life we all leave behind - e.g. the accidental or unintentional graffiti created by an ever churning society.
Although this mural is no longer in existence, you can see his mural below, (sourced from Askew's Instagram).
Read ASKEW's full comments below.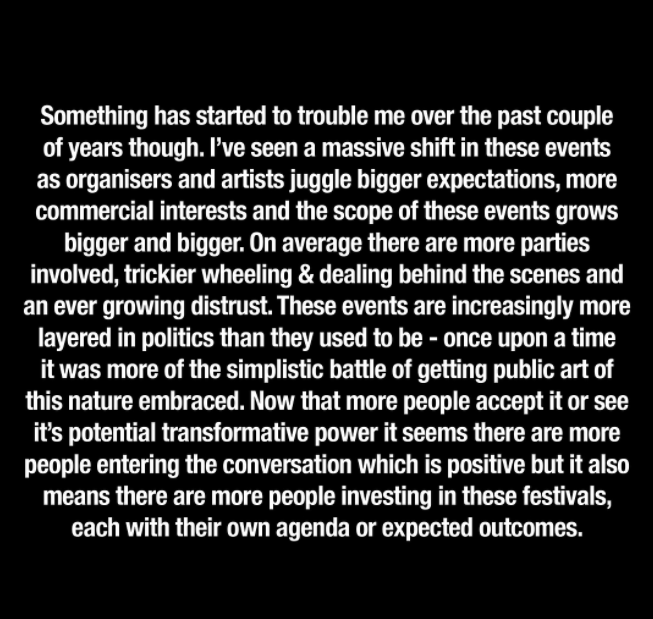 What once was a battle to have public art embraced and accepted by community has fast become a bidding war for buildings and grants, with a new wave of personal, professional and profitable politics getting in the way of what really matters - the art.
As we too have experienced the challenges and disappointments of 'mural festivals' in our own city, (Brisbane) that are funded with sponsorship or council dollars, yet often fail to adequently support the actual artists or pay them a fair financial contribution for their efforts - we wholeheartedly agree that it's time for this conversation. Losing community purpose for the gain of profit driven investors capitalising on the ever increasing fame and popularity of graffiti and mural work, should never be the way these festivals operate.
Follow the post on @askewone Instagram and be part of the conversation.
Photos: Luke Shirlaw and Askew One