It's no secret that KISS / ISPY is one of our all time favourite writers. Taking out the title for Secret Walls Gold Coast 2017 alongside MEMOS and MAID for team Culprit Club, we were stoked to work with KISS and are very excited to be welcoming him back to the Club very shortly for a surprise appearance (keep an eye on the social accounts this week for more info). Until then, we catch up with the legend to talk style, summer plans and creative inspiration.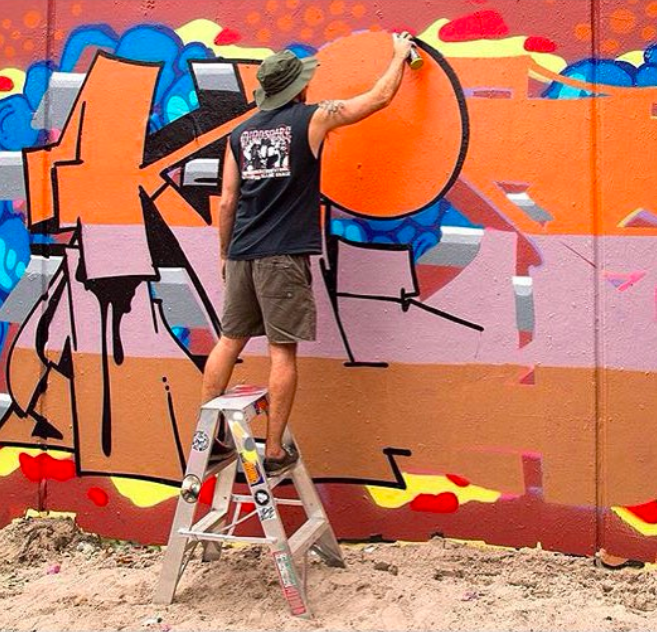 KISS, HOW LONG HAVE YOU BEEN PAINTING?
I think my first attempt was in around 2000/2001. I gave it away for a while a few years later and then my mate Dform got me back into it.
HOW/WHERE DID IT ALL BEGIN FOR YOU?
When I was young I remember seeing lots of DM's throw ups all over the Gold Coast. It got me curious about it. Then one school excursion we went to the Brisbane Art Gallery and in the bookshop was a copy of Subway Art. My mates and I pooled out money together and bought it…somehow I managed to be the one who kept it. I looked through it everyday and got hooked.
WHO'RE YOUR FAVOURITE WRITERS AND WHY?
Ahhh tough question! Here are 10 that come to mind. In no order.
1. Secret - 6 letters is a challenge, but he nails it
2. John Kaye - Colours, composition & calves
3. Ekaer - He makes the simple things look incredible
4. Teaz - letters & concepts
5. Ivo - Unwavering dedication & consistency
6. Dmote - Letters & Connections
7. Dvise - Original Inspiration
8. Memos - Style and just a really nice guy
9. Pubb Crew (SWE) - Great style writers
10. Smerk - Always getting a sneaky street piece up
YOU DRAW A LOT OF LOVELY LADIES, ARE THEY FICTIONAL CHARACTERS OR BASED OFF INFLUENTIAL FEMALES IN YOUR LIFE?
I get asked this a fair bit, there isn't anything deep going on with them. It's usually just a pose or something that captures my eye, then I try recreate it in my style. Some of the ladies I have tried to draw are Scarlett Johansson, Emma Stone, Fran Drescher, Alyssa Milano & Kate Winslet to name a few.
IF WE WERE TO TRAWL THROUGH YOUR BACKPACK, WHAT WOULD WE FIND?
Chobani Plain Yogurt, Bananas, iPhone 5, Headphones, assorted Baby stuff, keys, gym towel.
WHAT HAVE YOU GOT PLANNED FOR THE REMAINDER OF THE YEAR?
After only recently becoming a father, I have learned not to make plans haha. But hopefully paint a bit more than I have been. Also maybe a return trip back to Hawaii.
TELL US ABOUT THE CURRENT PIECES YOU HAVE AVAILABLE AT THE CULPRIT CLUB?
I listen to a lot of Punk/Hardcore music, so my interpretation of the Opposing Offenders show theme was going to come from the messages in the punk music I grew up listening to. I took 'Conform or Die' from the Australian band The Hard-Ons album "Alfalfa Males, Once Summer Is Done, Conform Or Die". I ended up doing 2 because I found the letters were fun to do.
DO YOU THINK BRISBANE HAS ENOUGH OPPORTUNITIES TO OFFER LOCAL ARTISTS?
It seems to have an awful lot more than the Gold Coast does.
WHERE CAN PEOPLE FIND MORE OF YOUR WORK?
I only Have an Instagram @i_spy.kiss no Facebook, Pinterest or any of the other ones.
ANY ADVICE FOR ASPIRING PAINTERS?
Keep it sorta simple!